Concerto*Fest*Europa – Mozart, On the Road to Los Angeles
The Da Camera Society is delighted to host the final concert of Concerto*Fest*Europa, a five-day workshop for emerging pianists usually held in Vienna, Austria.
The concert will feature student soloists performing Mozart's "Four for the Road"—the piano concerti Mozart scored for chamber orchestra, thus allowing him to take them on tour.
Concerto*Fest*Europa was founded in 1997 by Robert Ward and Martyn van den Hoek, pianists who promote an essential aspect of a pianist's training: how to perform classical-era concerti with chamber orchestra. Drawing upon the sources of the Viennese tradition, they designed a festival where, not unlike the interaction between characters in an opera, a pianist's awareness of voices, dialogue, character and color bring new perspectives and live in the familiar classics.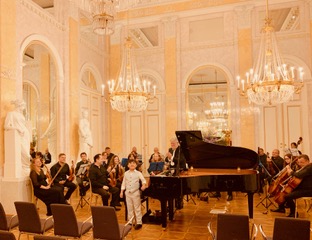 PROGRAM
Concerto in F major, K. 413
Concerto in A major, K. 414
Concerto in C major, K. 415
Concerto in E-flat, K. 449
***
Concerto No. 4 for Violin in D major, K 218
performers
Student Soloists
Thitiporn Pitakamonpan
Rachel Civen
Emily Webster-Zuber
Kaitlin Webster-Zuber
Mark Massey
Spurgeon Rice
Evan Grahek
Special Guest Artist
Martin Chalifour, violin
Ensemble Amadé
Lawrence Sonderling, violin
Ruth Bruegger, violin
Anja Pitzker Sonderling, viola
Delores Bing, cello
Ian Lindley, contra-bass
Robert Ward, Leader
Venue
A masterpiece of Gilded-Age architecture, the Doheny Mansion's Pompeian room features an iridescent Tiffany glass dome, elegant art glass panels, Tuscan marble Corinthian columns and a geometrically-patterned floor.
Tickets
Admission is free. Tickets are required for entry. Seating is first come, first served.
When
Friday, August 5
Concert – 7pm
Where
Pompeian Room, Doheny Mansion
Doheny Campus
Mount Saint Mary's University
View Map
Tickets
Free admission
Tickets required for entry